Parachute
Parachute
| | |
| --- | --- |
| Mod | |
| Type | ? |
| Durability | N/A |
| Stackable | No |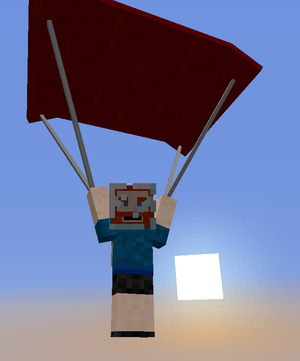 A parachute is used to prevent death upon re-entry into the Earth's atmosphere. The parachute is an essential part of your journey to space. You should never start into space without it. There will even be warning if you try to launch without one on you.
The parachute must be placed in the parachute slot when you open your inventory, to the right of the crafting area. A parachute will automatically deploy when you re-enter the atmosphere from either flying back to earth in a Spaceship, or falling off of a Space Station. However, if you jump from a Spaceship mid-takeoff on Earth, you will plummet to your death without deploying your parachute. If you are returning home in a spaceship a separate parachute carrying a chest will slowly descend next to you. This chest contains a Spaceship, a Partially Filled Fuel Canister, and anything that was left in the Spaceship's inventory.
You can color your Parachute in every vanilla color.
Crafting
 

 

 
---
Cookies help us deliver our services. By using our services, you agree to our use of cookies.